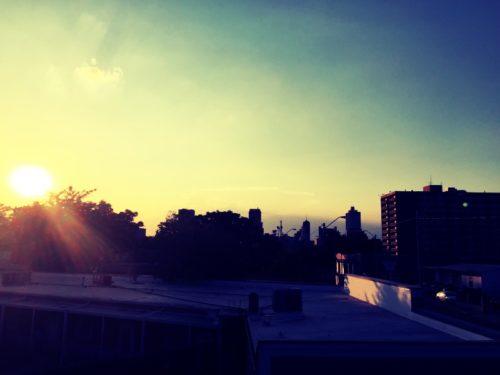 GRATITUDE 1/It's been a little while since I've sent much word.  I got pretty caught up in the painting, parenting, trail running and writing-toward-new-records thing as the summer heat lamps peaked.  I thought standing in a 97-degree garage studio would get old fast, but for whatever reason I spent a lot of time out there over these months.  At any rate, there are a number of thank-yous to send around.  Over the past few weeks I've been moved and humbled by some of the responses that have come in with regard to the varying anniversaries of, and favorite songs from our releases.  History shows that our band and I prefer to release records in September.  But with all those posts have come some of the kindest words I could have imagined reading about the music.  To know that these records might continue to resonate with folks as years the years go is a grounding and wonderful thing.  Thank you.
GRATITUDE 2/Thanks to Neighborhood Gallery and all the folks that showed up for Tim Kerr's and my art opening in Dallas on Sept. 3.  It's the largest batch of baseball paintings I've ever dragged to a show, and in all we had 96 pieces on the wall.
GRATITUDE 3/Thanks also to all the folks that chimed in on the grossly detailed 50K training plan a few months back.  Was very cool to find that there are a lot of runners in this community, and I'm down for nerding out with my fellow trail runner pals here and there on the road.  Please keep the stories and regional recommendations for good trails coming.  I'm hoping to start a small running collective sometime in 2017 with a trial run of shirts, totes, etc., with all profits going to charity.  It's something that lives a little in the abstract at the moment, but maybe it'll result in the occasional group trail run on tours if/when time might allow for it.
HATTERAS NIGHT, A GOOD LUCK CHARM LP/I made a new solo record here in Austin at Ramble Creek Recording with my friends Britton Beisenherz, Matt Pence and Ricky Ray Jackson.  Their individual and collective powers seem to be without measure, and we came away with nine songs in five days.  It was engineered and mixed by both Britton and Matt, and will have a cover image by Matthew Genitempo, whose work is on the cover of Swan City Vampires.  It's mastered and off to the record plant, and will be released on March 24 via Undertow.
THE 901/Been hanging around Memphis for a few days making a record at Sam Phillips Recording with my friend Justin Peter Kinkel Schuster (Water Liars).  We each brought a few songs in and have worked to be the best side-people, background singers, snack getters and joke tellers we can be for one another.  To record in a place like this is an intense thing.  It's a spaceship back to 1960.  There are cigarette burns left on the upstairs bar left by Johnny Cash.  There are John Prine, Sleepy John Estes, Tom Jones and Bar-Kays masters on the shelves just down the hall, and there's the occasional old, wadded up check from Sun Records laying around.  The smell of the hallways and iso-booths and reverb tanks and old office spaces sticks with you.  It gets in your clothes.  The kind of place I try to comprehend all day, then dream about at night.
MORE RELEASES/The Little Raider + 2 EP will be released this winter on vinyl, thanks to Goliad Media (Denton, TX).  There are also two new 7″ releases in the works, thanks to Different Folk (SD) and People In A Position To Know (AZ).
NEW SHOWS/Packing the tent and guitar and heading out next week.  All these shows will be acoustic, and with the exception of the Florence show, will be held in living rooms, churches, listening rooms, art spaces, etc. with no PA system.  I'll have the latest run of baseball prints on this run and aim to play new songs from Hatteras..  I am open to the scenario of delaying or moving show times with respect to local MLB playoff concerns, but I guess we'll fry those fish when we get to 'em.  Tickets avail. via www.undertowtickets.com.
Dates and locations:
October 7 : Water Valley MS – TICKETS
October 8 : Florence AL @ 116 E. Mobile / with Andrew Bryant – TICKETS
October 9 : Athens GA – TICKETS
October 10 : Brevard NC – TICKETS
October 11 : Asheville NC – TICKETS
October 12 : Richmond VA – TICKETS
October 13 : University Park MD – TICKETS
October 14 : Baltimore MD – TICKETS
October 15 : Philadelphia PA – TICKETS
October 16 : Weehawken NJ – TICKETS
October 17 : Boston MA – TICKETS
October 18 : Providence RI – TICKETS
October 20 : Pittsburgh PA – TICKETS
October 21 : Cleveland OH – TICKETS
October 22 : Columbus OH – TICKETS
October 23 : Detroit MI – TICKETS
October 24 : Grand Rapids MI – TICKETS
October 27 : Little Rock AR – TICKETS
OTHER SHOWS/
November 5 : Dallas, TX – Trees – supporting Bob Mould.
December 1 : Athens, GA – Georgia Theater – supporting Jason Isbell.
December 2 : Athens, GA – Georgia Theater – supporting Jason Isbell.
December 16 : Lafayette, LA – Acadiana Center For The Arts – supporting Jason Isbell.
December 17 : Thackerville, OK- WinStar World Casino – supporting Jason Isbell.
There will be a few full band shows in early 2017.
Thanks for reading, and maybe see you on the road. With respect.  -Will J.