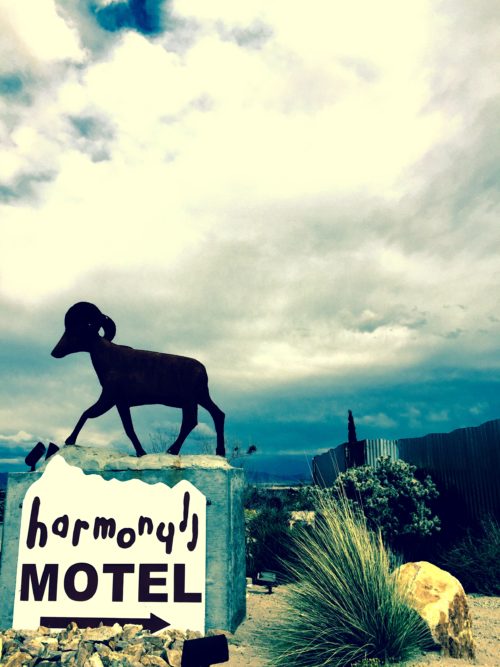 "… the pity, terror, strangeness, and magnificence of it all."
-Thomas Wolfe/A Western Journal
RELEASE WEEK / I got the backdraft of last night's Mesa, AZ Chicken And Waffle Wings running flush in mustache and beard. Two showers in and I don't know if it is shakeable. That relationship was good but it needs to be over now. Hatteras Night, A Good Luck Charm LP, CD and downloads are officially available this Friday, March 24, thanks to Undertow. Release night/show will take place in the great city of San Francisco, and it sure feels good to be back out here in the West. LP, CD and downloads available via Undertow // iTunes // Bandcamp // Amazon, or at various record stores all around. I'll have the new record in tow on this run, as well as limited supplies of the new Different Folk "Patient, Patient Man"/"Uinta" 7″, and the re-press of the record Jason Molina and I made together. The merch table will be stacked with older titles and some baseball prints as well.
WESTERN LIVING ROOM/ALTERNATE SPACE TOUR NOW:
March 23 : Bakersfield CA – Tickets
March 24 : San Francisco CA – Tickets
March 25 : Petaluma CA – Tickets
March 26 : Reno NV – Tickets
March 28 : Eugene OR – Tickets
March 29 : Portland OR – Tickets
March 30 : Portland OR – Tickets
March 31 : Seattle WA – Tickets
April 1 : Boise ID – Tickets
April 2 : Cheyenne WY – Tickets
April 3 : Ft. Collins CO – Tickets
April 4 : Denver CO – Tickets
April 5 : Albuquerque NM – Tickets
AUSTIN ONE-OFF w/ BOB MOULD:
April 25 – Austin / 3Ten ACL Live
NEW JUNE SHOWS w/ JOHN MORELAND:
June 1 – St. Louis MO / Off Broadway
June 2 – Indianapolis IN / White Rabbit Cabaret
June 3 – Cleveland OH / Beachland Tavern
June 4 – Washington DC / Rock And Roll Hotel
June 7 – NYC NY / Bowery Ballroom
June 8 – Boston MA / The Sinclair
June 9 – Montreal QC / Bar Le Ritz
June 10 – Toronto ON / Velvet Underground
June 13 – Ann Arbor MI / The Ark
June 14 – Chicago IL / Thalia Hall
June 16 – St. Paul MN / Turf Club
June 17 – Maqoketa IA / Codfish Hollow Barnstormer's
DENTON SHOW:
June 29 – Dan's Silverleaf
REDO THE STACKS TURNS 20 / Twenty years ago this week (March 23, 1997), the first Centro-matic LP, Redo The Stacks was released. At the time I thought I'd make a record or two, then heave myself toward the numerous ways graduate school can break a person. Instead, that record was a direct route to some lifelong friendships, and a lot of incredible years with my Centro bandmates. I send love and thanks to Matt Pence, Scott Danbom, Mark Hedman, Bob Andrews, Lindsey Romig, Matt Barnhart, and all the folks that worked at Steve Records. They made those songs and that record come to life, and I'm thankful for it.
See you down the road. -Will J.
Now playing:
Jim Sullivan/U.F.O. LP
Durand Jones and The Indications/s/t LP
Gillian Welch/Soul Journey LP
Greg Vanderpool/Pilot LP
Gil Scott-Heron/The Revolution Will Not Be Televised LP
Isasa/Los Dias LP