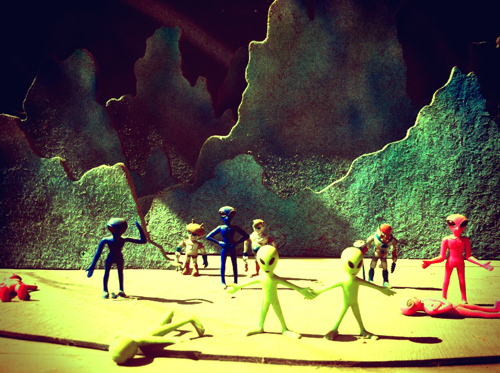 After about nine hours of driving I pulled into Roswell and stopped at the Circle K on North Main Street to get some beer. The first person I spoke with was a lanky, young guy in a black satin jacket and a dirty Miami Dolphins cap.  He had what looked like traction encasing the entirety of his right arm. I almost bumped into him at the cooler, and we wound up talking at the register. He told me he'd been stabbed in the chest and in the arm, had just been released from the hospital, and was finally regaining some movement in his wrist. He continued his story to the clerk, who he seemed to know, and I stood at the door and wished him well with his recovery. He turned and flatly said: "I'm really happy to be alive. I'm just happy to be living this life."
I couldn't know what led him to this condition, or this chapter.  I'll never know if I was talking to the bad guy, the good guy, or just the wrong place, wrong time guy. But as he talked, and as his eyes and smile lines expressed hope for healing and betterment, I realized, after the most difficult and surreal stretch of my own life, that it felt great to be back out in the world again. As rough as things looked for this guy, there was a centeredness about him, his other arm waving about as he excavated the air in the room for a shred of positivity. Keeping on.
There's a comfort in the driving, the interacting, in making time for a walk to go watch a sunset, in playing some shows again. In smelling the supper of the contract workers cooking on the grill just outside my hotel room door tonight, and finding some trails to run just after sunrise tomorrow.
It feels good to be back in the American West. It feels good to see signs of Spring.
Maybe see you at the show.
-Will J. / April 2014
# # #
WED APRIL 2 : Albuquerque, NM - SOLD OUT
THU APRIL 3 : Phoenix, AZ
FRI APRIL 4 : Las Vegas NV
SAT APRIL 5 : Los Angeles CA (Altadena)
SUN APRIL 6 :  San Francisco – SOLD OUT
MON APRIL 7 : Petaluma CA
TUE APRIL 8 : Sacramento CA
WED APRIL 9 : Reno NV – SOLD OUT
FRI APRIL 11 : Eugene OR
SAT APRIL 12 : Portland OR – SOLD OUT
SUN APRIL 13 : Seattle WA – SOLD OUT
MON APRIL 14 : Boise ID
WED APRIL 16 : Cheyenne WY
THU APRIL 17 : Ft Collins CO – SOLD OUT
FRI APRIL 18 :  Denver CO
SAT APRIL 19 : Crested Butte CO